Place Ad
Looking to Advertise in Malayala Manorama Court Notice? Get started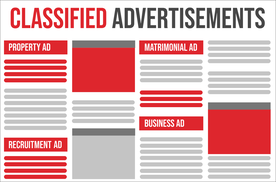 1
Select Ad Type & Location
Click here to select location & start booking.
2
Compose Ad
Enter the details of the ad in the next page.
3
Make Payment
Complete payment online and hassle free.
F.A.Q
Frequently Asked Questions
Thank you for your query. You can follow the steps below to book a Public notice advertisement in Malayala Manorama newspaper.
Visit https: https://malayalamanorama.releasemyad.com/rates/public-notice
Choose the edition/ location name
On the very next step, you can upload your own creative in the 'UPLOAD YOUR AD' section or you can pick any of our sample templates to write your ad matter.
Select your ad release date
Select payment option (online / offline)
For certain ads, the publication needs some supporting documents like a lawyer's letterhead mentioning the ad matter with a stamp and signature that you can either upload while booking your ad, or you can email us at documents@releasemyad.com. Requirement of documents will be mentioned in the website itself.
For further information, you can call them at 098306 29298. You can write to us at book@releasemyad.com or take the help of a live chat option.
In Malayala Manorama newspaper you can book public notice ads in an easy way and our cost for notice ads is also comparatively lower compared to other agencies. Basically, public notice ads will always go under classified display sections of Malayala Manorama newspaper. Normal text ads are not allowed in case of Public notice ads. Classified display advertisements are charged and measured on the basis of per square centimeter unit. While booking your Ad you can use your own creative or you can pick any of our sample templates and compose your ad matter. The Malayala Manorama Public notice ad rate for Bangalore edition is Rs 1425 for a minimum size of 3.8 cm x 5 cm. Cost will increase based on your ad size.
Note: In many cases we need some documents like a lawyer's letterhead mentioning the Ad matter with stamp and signature. You need to send the documents at least 2 days prior to the publishing date. You can either upload the document while booking your ad or else email us at documents@releasemyad.com
For any other details related to booking , you can call us at 09830629298 or email us at book@releasemyad.com
Previous Date
View published ad in Malayala Manorama Court Notice Newspaper
| Published | Download |
| --- | --- |
| Today (December 6) | View |
| This Week (November 29 - December 6) | View |
| Last Week (November 22 - November 29) | View |
| Last Month (November) | View |
| This Year (2022) | View |
| Last Year (2021) | View |
| 2020 | View |
| 2019 | View |
| 2018 | View |
| 2017 | View |
Advertise in Malayala Manorama
Court Notice
BOOK NOW